Dr. Zein Al-Abideen M. Al-Awawdeh
Dr. Zein Al-Abideen M. Al-Awawdeh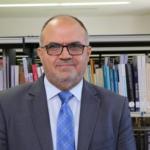 Dr. Zein Al-Abideen M. Al-Awawdeh
PQSB 3rd Call Participant
Bethlehem University
College: Faculty of Arts
University: Bethlehem University
Specialization: Modern Literature and Discourse Analysis 
FRQ Research Area: Society and Culture Sciences
Host university: McGill University
Host Department: The Institute of Islamic Studies, McGill University
Canadian Partner:  Michelle Hartman , Professor and Director Institute of Islamic Studies, McGill University
Research Domain: Literary discourse analysis
Research Project Title: Receiving contemporary Palestinian narrative discourse in Canada- An analytical reading with translated narrative discourse in Palestinian comedy novels written by Ibrahim Nasrallah and another written by Sahar Khalifa.
Research Project Purpose: This analytical reading translated into the contemporary Palestinian narrative discourse for some Palestinian comedy novels written by Ibrahim Nasrallah and another written by Sahar Khalifa to analyze the contemporary Palestinian narrative discourse to reveal the perspectives of its novelists to the reality of the Palestinian issue and the transformations that it faced after the Oslo agreement and the definition of their different perspectives in presenting the historical narrative of the Palestinian Crossbar for the future of the case. This is in order to deliver the translated Palestinian literary discourse to the scholarly levels and the various groups of the Canadian people and to the general centers of scientific research in Canadian universities, which is of great importance in introducing the Canadian people to the tragic reality under which the Palestinian people suffer because of the brutal occupation as portrayed by Palestinian writers through Their visions and perceptions that reflect shifts in political, social and cultural thought on the Palestinian issue.
In the future, the research project will expand to include the study of other Palestinian literary genres and may include a comparative study between Canadian and Palestinian literary texts. 
Expected Results: It is expected that the joint research between the researcher and the participating researcher will be completed according to its following main objectives:
Completing the study of literary texts targeted by research according to the mechanisms of the scientific research method in reading, analysis, semiotic and cultural criticism in Canada and Palestine, and translating the study into English and publishing it in scientific journals in Canada and abroad.
Discussing the content and results of this study in the academic community at McGill University and at Bethlehem University. As well as in other academic circles wherever we have the opportunity in Canada and Palestine.
Benefiting from the results of this joint study in building a new research partnership as an extension of studies that include other Palestinian literary genres, as well as conducting a study in the field of comparative literature and comparative criticism.