4th Episode of Exploring Science Program on The impact of near vision tasks on the visual system: school students as an example, with Dr. Alshaarawi Salem
4th Episode of Exploring Science Program on The impact of near vision tasks on the visual system: school students as an example, with Dr. Alshaarawi Salem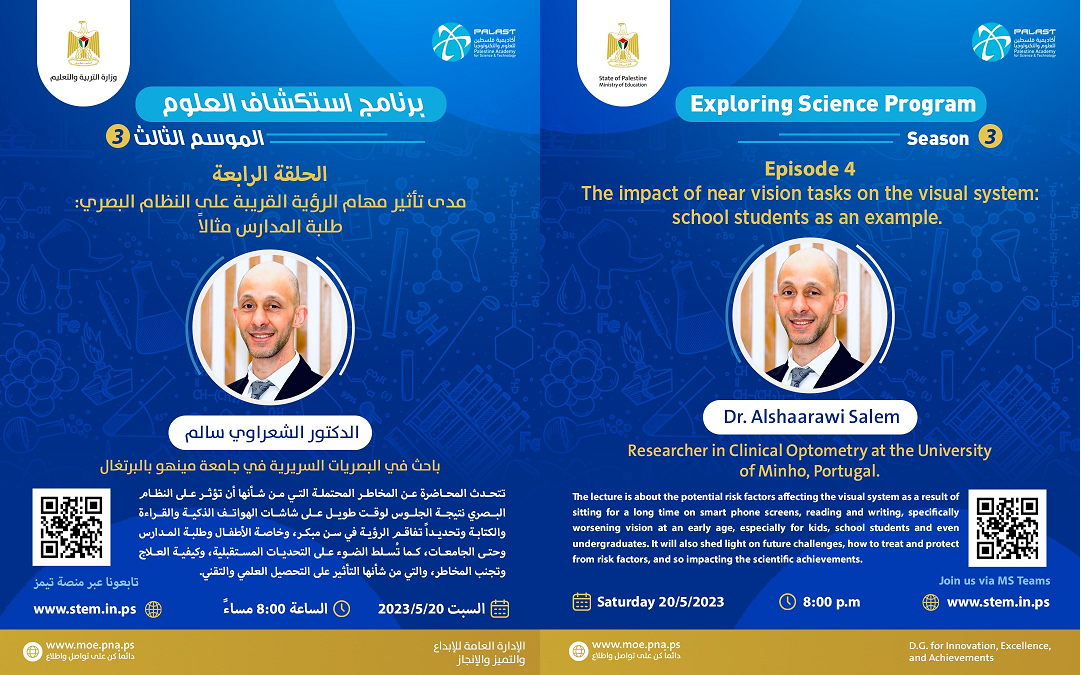 4th  Episode of Exploring Science Program- Season 3
Saturday, 20 May 2023 at 8:00 p.m.
with Dr. Alshaarawi Salem
on The impact of near vision tasks on the visual system: school students as an example
مدى تأثير مهام الرؤية القريبة على النظام البصري: طلاب المدارس مثالًا 

The lecture is about the potential risk factors affecting the visual system as a result of sitting for a long time on smart phone screens, reading and writing, specifically worsening vision at an early age, especially for kids, school students and even undergraduates. It will also shed light on future challenges, how to treat and protect from risk factors, and so impacting the scientific achievements. 
تتحدث المحاضرة عن المخاطر المحتملة التي من شأنها تؤثر على النظام البصري نتيجة الجلوس لوقت طويل على شاشات الهواتف الذكية والقراءة والكتابة وتحديدًا تفاقم الرؤية في سن مبكر ، وخاصة الأطفال وطلاب المدارس وحتى الجامعات.   وستسلط الضوء على التحديات المستقبلية وكيفية العلاج وتجنب المخاطر والتى من شأنها التأثير على التحصيل العلمي والتقني.

Dr. Alshaarawi Salem  is a researcher in Clinical Optometry at the University of Minho, Portugal, and is experienced in optical solutions, specifically unified vision and premature babies. He holds the best scientific research in Malaysia related to diseases of the optic nerve and retina and is the author of many books and indexed scientific publications.

الدكتور الشعراوي يعمل باحت في البصريات السريرية في جامعة مينهو بالبرتغال، ومتمرس بالحلول البصرية وتحديدًا الرؤية الموحدة والأطفال الخدج. حاصل على أفضل بحت علمي في ماليزيا والمتعلق بأمراض العصب البصري والشبكية، ومؤلف للعديد من الكتب والمنشورات العلمية المفهرسة. 
To attend: Join via MS Teams www.stem.in.ps   , or through live broadcast via Ministry of Education Facebook page: https://www.facebook.com/Palestinian.MOE