Information Day : Al Maqdisi Programme, 16th Call for project proposals in scientific research - 2021 -
Information Day : Al Maqdisi Programme, 16th Call for project proposals in scientific research - 2021 -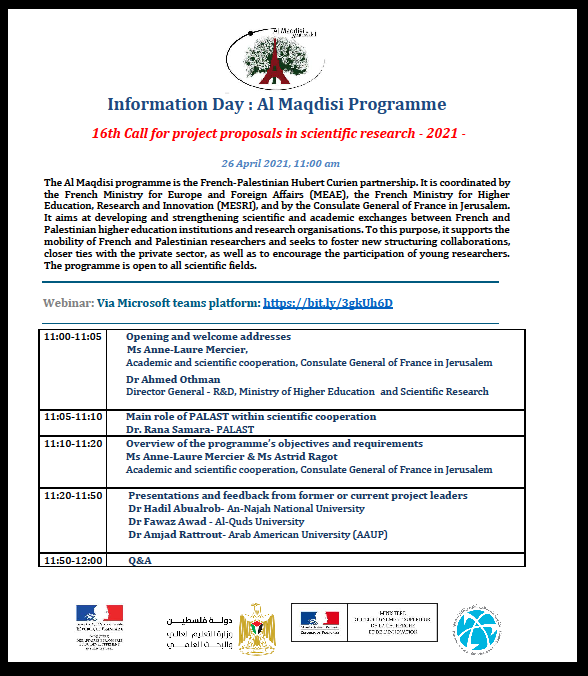 Information Day : Al Maqdisi Programme
16th Call for project proposals in scientific research - 2021 -
26 April 2021, 11:00 am
The Al Maqdisi programme is the French-Palestinian Hubert Curien partnership. It is coordinated by the French Ministry for Europe and Foreign Affairs (MEAE), the French Ministry for Higher Education, Research and Innovation (MESRI), and by the Consulate General of France in Jerusalem. It aims at developing and strengthening scientific and academic exchanges between French and Palestinian higher education institutions and research organisations. To this purpose, it supports the mobility of French and Palestinian researchers and seeks to foster new structuring collaborations, closer ties with the private sector, as well as to encourage the participation of young researchers. The programme is open to all scientific fields.
 You can join us to overview of the programme's objectives and requirements, that will presented by Ms Anne-Laure Mercier & Ms Astrid Ragot- Academic and scientific cooperation, Consulate General of France in Jerusalem.
and to share feedback from former or current project leaders.
For more information, visit the Campus France webpage
The English version of the call for applications  is available here.
CONTACTS
Palestinian teams coordinators
Consulate General of France in Jerusalem
Ms Astrid RAGOT and Ms Anne-Laure MERCIER
Academic and scientific cooperation
3 Bibers street - Sheikh Jarrah
B.P. 182 Jerusalem
Tel: + 972 (0)2 591 40 08/17 Fax: + 972 (0)2 591 40 01
Email: astrid.ragot@diplomatie.gouv.fr
Email: anne-laure.mercier@diplomatie.gouv.fr
French teams coordinator
M. Carlos GOMES
Chargé de Mobilité
Direction Relations Extérieures et Institutionnelles
Service de la valorisation de l'enseignement supérieur et
de la recherche
Agence française pour la promotion de l'enseignement
supérieur,
l'accueil et la mobilité internationale
Tel: +33(0)1 40 40 59 65
Email: Carlos.GOMES@campusfrance.org