Nibal Khudeish
Nibal Khudeish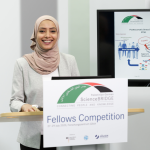 Nibal Khudeish
PGSB Fellow
Al-Quds University & RWTH Aachen University
First Project (January 2019 – On hold) 
Title of Research: Psychological Trauma and Reinforcement Learning as a Function of Dopamine Transporter gene (DAT1) Variations.
Home Palestinian University: Al-Quds University 
Department: Palestinian Neuroscience Initiative (PNI)
Specialization: Biology 
Palestinian supervisor: Dr. Mohammad Herzallah
Palestinian Supervisor affiliation: Palestinian Neuroscience Initiative/ Al-Quds University
 
Second Project (newly established project)
Title of  Research: Neuroimaging Epigenetics of Resilience in Posttraumatic Stress Disorder (PTSD)
Home Palestinian University: Al Quds University
Degree aims:  PhD 
FZJ Supervisor: Prof. Dr. Med. Irene Neuner 
Center in Juelich: Institute of Neuroscience and Medicine (INM-4)
Affiliated University in Germany: RWTH Aachen University
Department: Psychiatry and Psychotherapy
Faculty: Medicine 
The mission research period : January 2019 – January 2022
Research Purpose: Trauma exposure represents major challenges to the psychological and physiological homeostasis of an individual. Being exposed to traumatic and stressful events triggers a load of behavioral and biological responses.  These responses interact with the individual's biology and genetics and lead to pathophysiologic consequences that can protect against or accelerate the development of stress-related disorders like posttraumatic stress-related disorder (PTSD). 
Having the ability to overcome traumatic events without the development of serious health consequences like stress-related disorders is referred to as "resilience". Trauma exposure in the general population is high (approximately 90%). However, there is a significant variation in the way and individual response to such events. Thus, to understand why some individuals, exhibit characteristics of being resilient, the interactions between these factors need to be explained.
The proposed study aims to investigate the neuroepigenetic effects of traumatic and stressful life events on resilience to Posttraumatic Stress Disorder (PTSD), and to explore how this could affect the creation of a stress-resilient profile in trauma-exposed individuals using fMRI and epigenetics analysis. Our focus is to combine imaging data with epigenetic markers to provide a better understanding of psychological resilience which may open new avenues in the prevention and treatment of PTSD and other stress-related disorders.