The Palestine Academy for Science and Technology and the Palestinian Water Authority, organized the Second International Conference on Water Values and Rights that was held during the period 13-15 April 2009 in Ramallah, Grand Park Hotel. The Conference was co-sponsored by the United Nations Development Program (UNDP).
The objectives of the Conference that were successfully reached, were to bring together scholars, scientists, experts and researchers, decision makers, and other stakeholders from the public and private sectors to discuss issues related to water rights and the state of the art in water and wastewater science and technology. The Conference also served as an opportunity for all to interact with each other and with a prominent international group of invited speakers. It furthermore tackled the pressing human rights and hydro political issues.

Key international and local speakers were invited to participate in the conference and lead different sessions throughout the three day conference along with local key speakers from different institutions specialized in the water sector.

The Proceedings of the conference was published on behalf the publication unit in Palestine Academy for science and technology. The proceeding is 726 pages targeting the themes that were discussed during the conference. The conference themes were: Water Resources Management, Wastewater management, Water: Development, Strategic Planning and Regional Cooperation, Water Rights and International Water Law and other special themes.
For the recommendations that resulted from the Conference, please see the Joint Statement
Agenda of the 2nd International Conference on Water Values and Rights
In the Media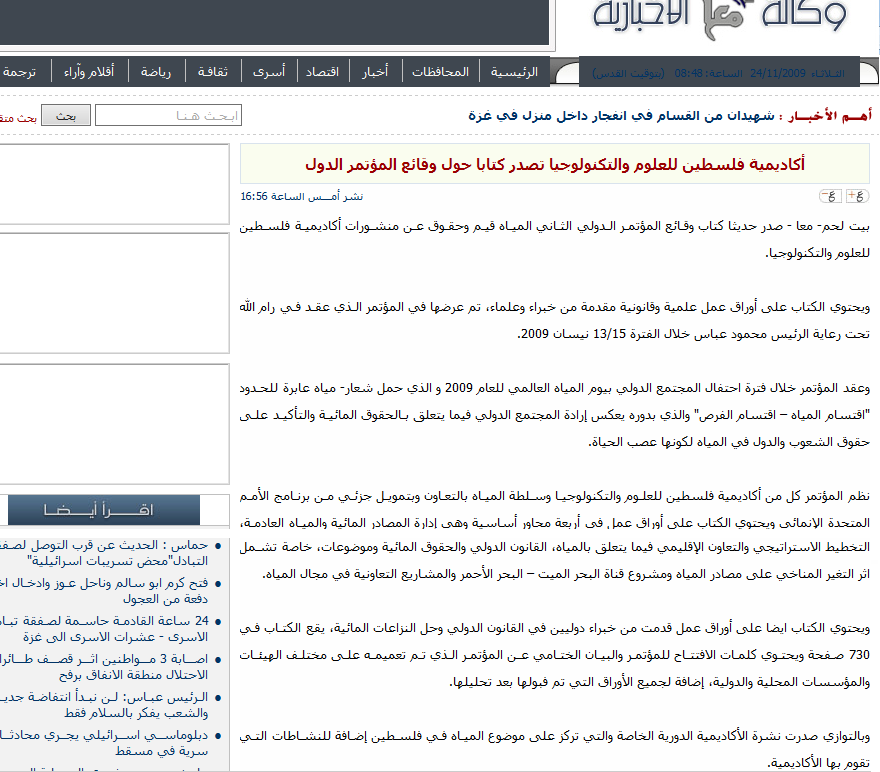 Wafa News Agency